Personalized Eye Care and Eyewear –
Our Mission Applies to Both
Just like everyone is unique in the kind of eye care they require, the right eyewear solution for you depends on your unique features and style preferences. Using the latest technology and knowledge of the latest fashion trends, our highly trained opticians will help you find the right type of eyeglasses to help you see clearly and confidently express yourself.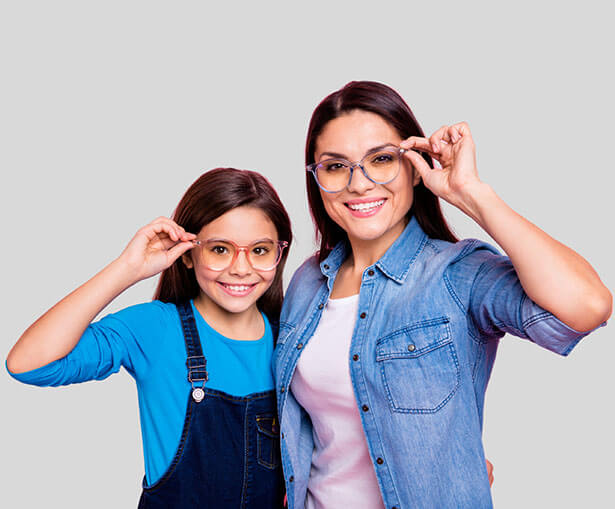 With over 800 frames to choose from, patients of all ages can select from a wide variety of options at each location. In our optical shop, you'll discover designer frames from brands like Kate Spade New York®, Maui Jim®, Oliver Peoples®, Tiffany & Co.®, and TOM FORD®. And for your kids, we have durable, yet stylish, options like Lulu and Geoffrey Beene for them to try on.
We'll help you protect your vision from the sun's UV rays in style. Our optical shop has a large selection of prescription and non-prescription sunglasses from the hottest designer brands, and our friendly opticians will help you find the perfect pair.
Is the freedom that contact lenses provide more suitable to your everyday life? During a contact lens exam, we'll find the type of lens type that will give you comfortable clarity.
Large Contact Lens Selection
We offer a wide range of contact lenses that will help any patient experience clear vision without glasses, and our opticians will find the right pair for you.
Specialty & Scleral Lenses
If your eyes are characterized as "hard to fit," we also have specialty contacts and scleral lenses available! These lenses are a great choice for patients who have struggled to wear traditional contact lenses in the past.
For patients with an eye misalignment, we're proud to offer Neurolens. Neurolens is a prescription lens that uses a contoured prism to correct eye misalignment and relieve the symptoms associated with the condition, like headaches, neck pain, dry eye sensation, and more.
Why Choose VisionQuest for Your Eyewear?
When you visit our Greenwood and Fishers offices, you'll be greeted by friendly experts who are eager to learn about all the things that are important to you so they can find you the perfect eyewear solution. You can count on us to factor in your style, face shape, and vision needs to ensure your prescription fits as well as your frames. Schedule an appointment to discover how our personalized eyewear shopping experience can benefit both your style and vision!